The MTCC Spring 2017 statewide meeting took place on May 15th-16th 2017 and was centered around spectrum of care best practices and resources in Montana. We heard updates and insight on the patient-care experience through our first panel of health professionals consisting of State Medical Director Dr. Greg Holzman, St. Peter's Hospital Colon and Rectal Surgeon Dr. Emily Bubbers, LCSW Christina Stern, as well as Oncology Nurse Navigators Emily Burton and Pam Sasser. The second panel focused on patient care for diverse populations and consisted of American Indian Cancer Care Representative Lisa Watson-Whitford (Benefis), Disability Health Representative Dr. Meg Ann Traci (Rural Institute of Disability and Health), and Pediatric Cancer LCSW Carri Stoker-Postier (Kalispell Regional Medical Center). In addition to the panels, we heard presentations on updated cancer-care screening guidelines by Courtney Buys (Montana Primary Care Association), the data landscape by Becky Franks (Cancer Support Community) and on working with people in treatment/survivorship by Chelsia Rice (ACS-Cancer Action Network). We also heard from the co-chairs of our seven implementation teams on the progress of priority objectives outlined in the 5-year statewide comprehensive cancer plan. The presentation of the Bette Bohlinger Leadership Award was also given to Becky Franks; an outstanding and dedicated member of the MTCC, for her exemplary work on patient-care initiatives within the coalition and throughout the state.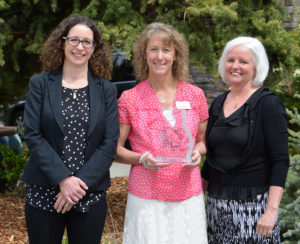 THANK YOU to all 73 individuals who traveled to join us for this spring meeting. Your passion and dedication to the progression of the state of cancer care in Montana is invaluable to our organization and we thank you for your membership!
The MTCC is always looking for passionate and dedicated individuals to join our organization. Please email MTCC manager Nikki Campbell for more information! [email protected]
Be sure to stay tuned for upcoming events hosted by MTCC!